By Joyce Ann L. Rocamora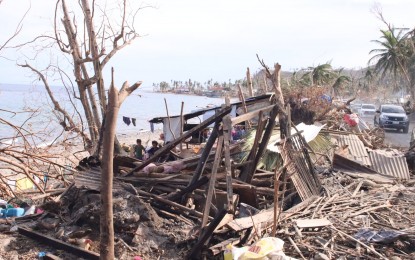 (File photo)
MANILA – The United States government on Wednesday announced an additional USD19 million (approximately PHP950 million) in humanitarian aid to help communities affected by Typhoon Odette, bringing its total assistance to the Philippines to more than PHP1 billion.
"The United States is pleased to announce additional and significant assistance of PHP950 million, which brings our total amount of aid for Typhoon Odette to over PHP1 billion. We stand steadfast with our long-standing friend, partner, and ally in helping support communities devastated by the typhoon," US Embassy in the Philippines Chargé d'Affaires ad interim Heather Variava said in a statement.
Through the US Agency for International Development (USAID), the additional aid will provide food, water, hygiene supplies, and shelter assistance to the affected population.
The new funding is in addition to the PHP50 million Washington DC announced earlier to support emergency logistics efforts to ensure aid is delivered to those in hard-to-reach areas.
The US Embassy in Manila said it also builds on the PHP10 million assistance that the USAID provided immediately after the storm for food, water, and hygiene supplies, as well as to restore water supply services and sanitation facilities, and support hygiene promotion activities.
Variava, meanwhile, is expected to visit communities affected by "Odette" and see ongoing US relief activities.
"Odette" made landfall on December 16, bringing in destructive winds and torrential rains. The latest government data showed that more than 4.3 million people were affected across 11 regions in 6,115 barangays, with a total of 397 reported casualties and 1,147 injured.
According to the National Disaster Risk Reduction and Management Council, more than 561,000 people have also been displaced with 305,229 people taking shelter in evacuation centers.
The embassy said Washington DC would continue to partner with the Philippines to respond to natural disasters and support Filipinos in their recovery efforts.
Through existing programs, the USAID's partners are transporting relief supplies, including food provided by the Philippine government to feed nearly 103,000 families.
USAID partners are also helping manage evacuation shelters, deploy mobile operations vehicles to support emergency telecommunications, and provide heavy-duty plastic sheeting to meet the shelter needs of 4,800 families. (PNA)