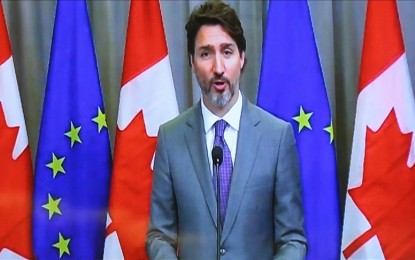 Canadian Prime Minister Justin Trudeau (Anadolu photo)
TRENTON, Canada (Anadolu/PNA) – Canadian Prime Minister Justin Trudeau announced sanctions on Tuesday against Russia, calling its recognition of two breakaway regions of Ukraine as independent states "illegal" and "unacceptable."
Speaking at a press conference, Trudeau said Canada "strongly condemns" Russian President Vladimir Putin's move regarding Luhansk and Donetsk.
"Make no mistake, this is a further invasion of a sovereign state and it is absolutely unacceptable," he said. "Russia's brazen provocations are a threat to security and peace in the world."
Trudeau said the "first round" of sanctions include a ban on Canadians having any financial dealings with Luhansk and Donetsk.
Canadians are also forbidden from purchasing Russian debt and cannot have financial dealings with two Russian banks.
Trudeau said Canada is also sanctioning all Russian parliament members who followed Putin's lead and voted to recognize the two separatist regions.
Canada is also sending 460 troops to Ukraine, he said.
On Monday, Putin ordered troops into Luhansk and Donetsk under the guise of "peacekeeping." The two regions are not under Ukrainian government control.
Putin was also given the power by Russian lawmakers to use military force outside of Russia, which puts the stamp of approval on the deployment of troops.
The US and the United Kingdom have also announced sanctions against Russia, and Germany said it will freeze the Nord Stream 2 gas pipeline project, which was designed to double the flow of Russian gas direct to Germany.
Canada has imposed more than 440 sanctions over Russian actions in Crimea.
Russian forces entered the Crimean Peninsula in February 2014, with Putin formally dividing the region into two separate federal subjects of Russia the following month. (Anadolu)