By Joyce Ann L. Rocamora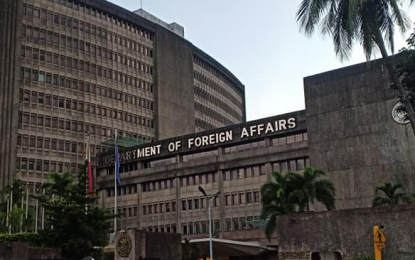 MANILA – The Department of Foreign Affairs (DFA) advised Filipinos in Ukraine to remain vigilant and maintain contact with Philippine authorities as the crisis between the European nation and Russia further worsen.
Russian President Vladimir Putin on Thursday said he approved a "special military operation" in Ukraine's eastern Donbas region and that he had asked Ukrainian troops to put down their arms.
As events rapidly unfold, Ukrainian authorities declare a nationwide state of emergency in the country.
Foreign Affairs Secretary Teodoro Locsin Jr. said the Philippine Embassy in Warsaw has been on "high alert" and the DFA continues to make arrangements with other countries for the safe exit of Filipinos who want to go home.
"Poland finally agreed to let ours in sans EU visas; not heard anything from Russia on our request re: its closest border. Most Filipinos in Ukraine are grateful guests and want to stick it out with their warm welcoming neighbors," he wrote in a tweet.
At least 181 out of the estimated 350 Filipinos in Ukraine have so far coordinated with the Philippine Embassy in Warsaw, which holds jurisdiction over Ukraine.
On Friday, four Filipinos are scheduled to arrive in Manila.
With the Philippines under Alert Level 2 or restriction phase, repatriation remains voluntary, said Foreign Affairs Undersecretary Sarah Lou Arriola.
"As Secretary Locsin said, our chief and singular concern is to take out of harm's way our fellow Filipinos in Ukraine and bring them to the nearest places of safety by the fastest possible way. Our Posts in Warsaw, Budapest, and Moscow, as well as the rest of our European Posts, are on standby for any eventuality," she told reporters in a press briefing on Thursday.
"For now, we urge our kababayans in Ukraine not to panic but to exercise caution and mind their movement, to keep their vigilance, and to maintain communication with the Philippine Embassy Team in Lviv or the Consulate General in Kyiv should they need any assistance," she added.
Arriola said the DFA would help all Filipinos who want to get repatriated whatever the circumstance on the ground is and that they would be the last to go.
"Our Filipinos especially the ones who are working there, who have families there have to weigh a lot of things before they decide to come home, so those are things that are at the back of their minds. What the DFA is doing is we're offering ourselves to assist in case they decide to come hope and give them assistance if they decide to relocate elsewhere in Ukraine," she said.
Several reports said explosions could be heard from the Ukrainian capital Kyiv before dawn.
On Thursday morning, Ukraine's Foreign Minister Dmytro Kuleba wrote on Twitter that Russia had launched a "full-scale invasion" of Ukraine and several cities are under strikes, a move he described as a "war of aggression"
European Commission President Ursula von der Leyen called on Russia to withdraw its military and fully respect Ukraine's territorial integrity, adding that the European Union will swiftly adopt "further restrictive measures" against Moscow.
United Nations Secretary-General António Guterres, on the other hand, appealed on Russia to pull back his army and prevent war from happening.
"Under the present circumstances, I must change my appeal: President Putin, in the name of humanity bring your troops back to Russia. This conflict must stop now," he said.
"In the name of humanity to not start what may be the most devastating war since the start of the century."
Telcos offer free roaming data
The country's two leading telecommunication companies — Globe Telecom Inc. and Smart Communications Inc. have offered free roaming data, calls, and texts to Filipinos in Ukraine.
In a statement on Thursday, Globe Telecom Inc. (Globe) has extended 15 minutes of free roaming calls, 15 texts, and one gigabyte (GB) of data to its users in Ukraine.
To avail of the free service, Globe users would need to connect with its roaming partners—Life or Kyivstar—and they will receive a confirmation message advising of the free roaming service.
"There is no registration required as this goodwill offer will be automatically provided to Globe customers currently located in Ukraine," Globe said.
On the other hand, Smart Communications Inc. (Smart) has extended 1 GB of free data to its "almost 1,000" roaming customers in Ukraine as part of its assistance to the local Filipino community.
Smart said the offer is valid for five days and urged its users in Ukraine to visit gigaroam.smart.com.ph to access Smart's data roaming manager.
Pray for peace
Bayombong Bishop Jose Elmer Mangalinao has asked the Catholic faithful to join Pope Francis on March 2, Ash Wednesday, for an intense fasting and prayer for peace in Ukraine.
"Today, Russian President Vladimir Putin has officially declared war and invasion on Ukraine warning all Ukrainian service members to drop their weapons if they still want to return to their families," the bishop said in his message posted on the Facebook account of Saint Joseph Husband of Mary Parish Kayapa on Thursday.
"Let us invite our families, friends, communities, and parishioners to offer prayers on Ash Wednesday for peace and the end of the war between Russia and Ukraine for we believe that "the diabolical evil of violence is answered with the weapons of God, with prayer and fasting — Pope Francis," he added.
The Archdiocese of Manila, Office of Communications also joined the call to pray for Ukraine and its people.
"May the Lord guide and protect them against war. May the Blessed Mother keep them safe under the mantle of her protection. Amen," it said in a separate FB post.
⁹"Let us also offer to the Lord the settlement between Ukraine and Russia," the Parish of the Holy Trinity in Manila said in its own social media post. (with reports from Raymond Dela Cruz/Ferdinand Patinio/PNA)