By Azer Parrocha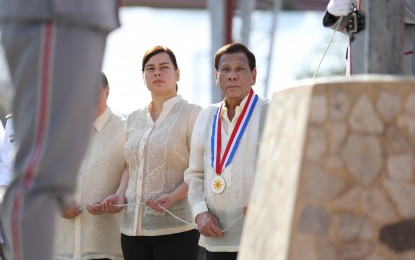 President Rodrigo Roa Duterte and daughter, presidential aspirant Sara Duterte (File photo)
MANILA – President Rodrigo R. Duterte on Monday said when he casts his vote on May 9, the circle next to the name of his daughter, Davao City Mayor Sara Duterte, will be the one he will shade in the ballot.
"I am not supporting any candidate except, of course, my daughter. Ako, boboto talaga ako sa anak ko (Me, I am really going to vote for my daughter)," Duterte said in a speech in Mataasnakahoy, Batangas.
This is the first time Duterte categorically announced that he will vote for Sara as vice president although he has repeatedly said that only his daughter could continue his legacy.
During the campaign sortie of ruling political party Partido Demokratiko Pilipino – Lakas ng Bayan (PDP-Laban) on March 31, Duterte vouched for the competence of his daughter, describing her as "very good and hardworking."
Duterte said Sara, given her qualities and leadership style, would be a great fit for the vice presidency.
"But Inday is really very strict. You can't crowd around waiting for her, you will be called one by one instead. But she will talk to you. And that's good, that's actually good. She can serve people in an orderly manner," he said.
Duterte last year expressed displeasure over Sara's decision to run for vice president under the Lakas – Christian Muslim Democrats (Lakas-CMD).
In November 2021, he even rejected a possible alliance among PDP-Laban, PDP-Laban allied party, Pederalismo ng Dugong Dakilang Samahan and Lakas (PDDS), and Lakas-CMD because he thinks presidential aspirant Ferdinand "Bongbong" Marcos Jr. is a "weak leader."
Marcos, who is running under the Partido Federal ng Pilipinas political party, is Sara's running mate.
Duterte said he disapproved of Sara's decision to run for vice president, noting that Marcos probably "decided for her."
Last month, the PDP-Laban wing led by Energy Secretary Alfonso Cusi officially endorsed Marcos' presidential candidacy.
Malacañang also confirmed that Duterte and Marcos had a "cordial and productive" meeting where the former discussed "the current government's major achievements and gave pieces of advice to Mr. Marcos."
Senator Christopher "Bong" Go, said the meeting was one of the factors that led to the PDP-Laban Cusi faction to endorse Marcos' presidential bid.
Despite this, Duterte said he will be departing from his political party's endorsement by choosing to remain "neutral." (PNA)