By Ruth Abbey Gita-Carlos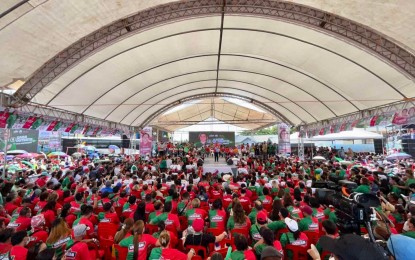 (File photo)
MANILA – President Rodrigo R. Duterte on Tuesday said he is not endorsing any presidential candidate to avoid speculation that he would use public funds to finance his preferred successor's campaign activities.
"Ang akin kasi eh presidente ako tapos magkampi ako ng isa, magdududa 'yung iba, ginagamit ko 'yung resources ng gobyerno, magulo na (My take is if you are a president and you side with one candidate, some will cast doubt that you are using the government resources. It would be a problem)," Duterte said in his prerecorded Talk to the People.
Duterte reiterated that he would not support the candidacy of any presidential aspirant, as he maintained his stance to stay "neutral."
"Ako, wala akong kandidato, hindi ako namumulitika (I don't have preferred candidate. I am not politicking). I'm just announcing. Wala akong kandidato ni sino man sa pagka-presidente (I'm not supporting any presidential candidate). I remain neutral," Duterte said.
Duterte refused to support any presidential hopeful, saying he does not want to be subjected to false accusations.
"If you are a president and you have the resources na nasa beck and call mo, ano man ang gawain mo masuspetya ang tao na ginagamit mo para sa isang kandidato (whatever you do, people will suspect that you will use that for your preferred candidate) even if it is not true," he said.
Under the Omnibus Election Code, any person is prohibited to raise funds for an election campaign or for the support of any candidate from the commencement of the election campaign period to election day.
Any person or organization, whether civic or religious, is also prohibited to directly or indirectly solicit or accept from any candidate for public office or from his campaign manager o representative.
In March, the Comelec also issued Resolution 10772, limiting the campaign donations of domestic corporations for partisan political activities.
Under the resolution, the "reasonable" amount of campaign contributions from domestic corporations should "not exceed 5 percent of the corporation's taxable income on a taxable year immediately preceding elections from trade, business, or profession."
Duterte reiterated that he would only support the candidacy of his daughter, Davao City Mayor Sara Duterte, who is gunning for vice presidency.
He said he supports Sara's vice presidential bid daughter because she is his daughter.
"At itong isa, kaya nga wala kaming kandidato (I don't have any candidate), except of course my daughter, so I have to mention her because she is my daughter," Duterte said. "I'm just trying to avoid politicking because baka masabit tayo sa Comelec (I don't want to be questioned by Comelec)." (PNA)