By Raymond Carl Dela Cruz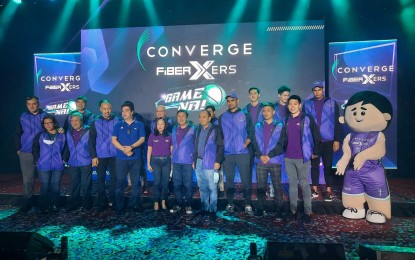 NEW PBA FRANCHISE. Fiber broadband provider Converge launches the newest franchise, FiberXers, in the Philippine Basketball Association at the EDSA Shangri-La on Tuesday (April 5, 2022). Converge recently acquired the retired Alaska Aces. (PNA photo by Raymond Carl Dela Cruz)
MANILA – Fiber broadband provider Converge on Tuesday launched the newest franchise in the Philippine Basketball Association (PBA) with FiberXers as its official monicker.
During the launch at the EDSA Shangri-La, Converge CEO Dennis Uy announced the team name and partnership with former PBA Commissioner Chito Salud as the team's representative to the PBA's board of governors.
This comes after the PBA board governors voted 11-0 to approve Converge's acquisition of the recently retired Alaska Aces.
"We want to give [Filipinos] top-notch basketball entertainment by having the best franchise in the PBA today," Uy said.
He said the launch of the FiberXers is a "strategic and timely move" that will help Converge with its nationwide expansion, especially with the devotion of Filipinos to the sport.
"Converge is ready to take on this new challenge in an arena where passion fuels the competition," Uy said.
Salud said his role is to help Converge "build a winning tradition" and will not yet make immediate or drastic changes to the team's lineup, with Jeff Cariaso to remain as the team's head coach.
"We have existing players and coaching staff, we don't want to grab the ball. We will put in the right pieces along the way," Salud said.
Uy's marching order, he said, was to make the FiberXers "competitive."
"We didn't join the PBA to be an embarrassment," Salud said.
With the upcoming PBA draft for the upcoming 47th season on May 15, Salud said Uy wants to form "young, fast team that can shoot the three".
"We are looking at our team and we need three-point shooters and an extra big man," he said.
During the event, PBA Commissioner Willie Marcial said the FiberXers' addition to the PBA is a big help.
"Kabahan sila dito sa Converge. Hindi po ako nambobola. Kasi nandito po si Chito Salud, [Richard] Bachman—alam nila ropes to get to the championship (They should watch out Converge. It's not flattery. Because they have Salud, Bachman—they know the ropes on how to get to the championship)," Marcial said.
In February, the Alaska Milk Corporation announced the official retirement of Alaska Aces from the PBA after 35 seasons with 14 titles and a grand slam. (PNA)