LETTERS FROM DAVAO
By Jun Ledesma
It's game over
I HAVE lived long enough and stored in my memory bank episodes of fraud and election-related crimes and venalities that occurred in at least nine presidential elections. Without fear of contradiction (to borrow that cliche), I can say that the May 9, 2022 polls are the most peaceful.
Well, we have seen the long queues and some quirks like defective counting machines and brazen vote-buying by local candidates. Those are par for the course. In the area of peace and security, however, our Philippine National Police and the military did a splendid job of containing potentially explosive conditions in many hot spots in the country in the past.
The election is over. The disparities of numbers in the presidential and vice-presidential races are unprecedented in Philippine history it is shameless and pitiable for the losing parties not to concede defeat.
Yorme, Lacson, Pacquiao, Gonzales have publicly conceded. Leody de Guzman has been quiet but his running mate, Walden Bello, true to form, is still barking. Nobody minds him anymore.
Leni Robredo and Kiko Pangilinan are still clinging to a thin thread of hope. They are aware of their ignoble defeat but are hoping somewhere in the UP and Ateneo Campuses will ignite a civil disorder leading to people's power.
No more. It is precisely the overwhelming votes against the "Yellow" brand of governance that for the first time in our history the nation will have a president and a vice president elected by a super-majority.
Post proclamation, the US, China, and the Queen of England congratulated Ferdinand "Bongbong" Marcos as the elected President. The US cognizance of a Marcos victory sends a strong message to Robredo's camp that it is GAME OVER. Do not expect the 7th Fleet to send supersonic jets for you.
About the Columnist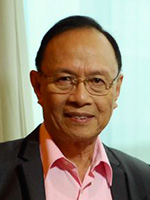 Mr. Jun Ledesma is a community journalist who writes from Davao City and comments from the perspective of a Mindanaoan.