By Ivan Stewart Saldajeno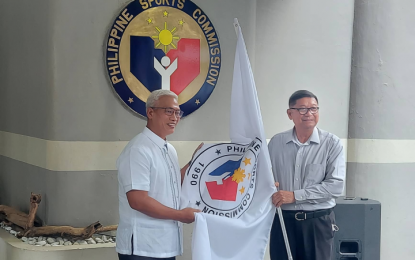 Newly-installed Philippine Sports Commission (PSC) chairman Noli Eala (left) receives PSC flag from former chairman William "Butch" Ramirez during the turnover ceremony at the PSC office inside the Rizal Memorial Sports Complex in Manila on Monday (Sept. 5, 2022). (Photo by Ivan Saldajeno)
MANILA – Newly-installed Philippine Sports Commission (PSC) chairperson Noli Eala on Monday vowed to strengthen its partnership with the Philippine Olympic Committee (POC) to continuously support the recent success of the Filipino athletes.
A meeting between him and POC president Bambol Tolentino has been scheduled later in the day to discuss some important matters that would factor in keeping the new found glory of Philippine sports alive.
"That's a priority," Eala said regarding the meeting.
The former Samahang Basketbol ng Pilipinas executive director said he was assured of the concurrent cycling president's support while vowing for full cooperation with the POC.
"He has assured me of his support. I have assured him of my cooperation and of course my full commitment to the NSA's (national sports associations) and of course the POC," Eala said.
He is optimistic about partnering with the concurrent Tagaytay mayor in further boosting Philippine sports as they have been friends for quite a while.
"I've known President Bambol for a very long time, so I feel that we will be able to work very well together," Eala added.
Eala has formally taken over the duties left by Butch Ramirez as PSC chairman as a formal turnover ceremony took place during the Monday flag raising ceremony at the PSC office inside the Rizal Memorial Sports Complex in Manila. (PNA)