By Joyce Ann L. Rocamora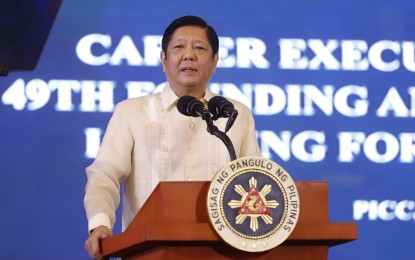 President Ferdinand R. Marcos Jr. (File photo)
MANILA – President Ferdinand R. Marcos Jr. on New Year's Day urged Filipinos to embody the true meaning of solidarity as the nation moves toward recovery.
As 2022 closes, Marcos hopes that the Filipino people would draw inspiration from their love for fellow Filipinos and the country as he called anew for unity to realize shared aspirations for the country.
"The innate Bayanihan spirit in all of us is what will keep us going against all adversities that will continue to test our fortitude as a nation," he said in his New Year message.
"Together, let us move full-steam ahead towards our goal of giving a better life to every Filipino family. I am confident that, by coming together, we can withstand and overcome all challenges and bring our nation to greater heights," he added.
As the nation looks forward to a fruitful New Year, Marcos encouraged Filipinos to remain steadfast while asking for God's guidance in the journey to attaining a better, brighter and more prosperous future for the Philippines. (PNA)