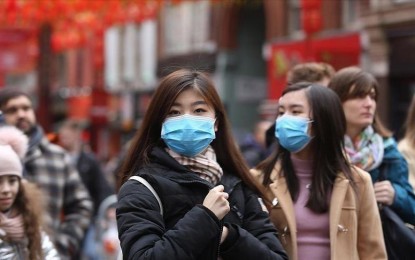 NEW RESTRICTION Travelers from China, Hong Kong and Macao will be required to present a negative coronavirus test two days before their flights to Canada. The restriction will take effect on January 5, 2023. (Anadolu)
ANKARA – Canada announced Saturday it will ask travelers coming from China, Hong Kong and Macao to submit temporary negative coronavirus tests ahead of their flights to the country.
The Canadian Health Ministry said all air travelers from those locations "will need to provide evidence of a negative COVID-19 test result, taken not more than two days before their departure, to the airline prior to boarding."
The restriction which will be applied to travelers 2-years-old and above will take effect on January 5. The measure will be in place for 30 days and authorities will reassess it as more data and evidence becomes available.
The decision comes after a surge in cases and "limited epidemiological and viral genomic sequence data available on these cases," the ministry said.
"Our actions continue to be guided by prudence and we will not hesitate to adjust measures to protect the health and safety of Canadians," the statement quoted Health Minister Jean-Yves Duclos.
Prior to Canada, Spain, Italy, the US, Japan, and Morocco announced COVID-19 restrictions on travelers from China, which is facing an explosive spike in infections after dumping its strict "zero-COVID" policy earlier this month.
Following growing discontent and unprecedented protests in parts of the country, China has started easing its stringent pandemic measures, saying it was shifting its focus from stopping virus transmission to preventing serious infections.
Beijing also decided to scrap mandatory quarantine for all visitors starting Jan. 8. (Anadolu)