By Joyce Ann L. Rocamora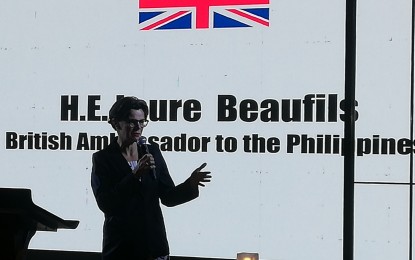 NEW TRADE SCHEME. British Ambassador to the Philippines Laure Beaufils during the 2nd Embassy Night at Hotel Okura Manila on Wednesday (April 26, 2023). Various members of the diplomatic corps and industry leaders were present during the event. (Photo by Joyce Rocamora)
MANILA – The Philippines will soon benefit from the United Kingdom's new trading scheme as it sets its official launch in June 2023, UK Ambassador Laure Beaufils disclosed Wednesday night.
The envoy said the Developing Countries Trading Scheme (DCTS) will replace UK's post-Brexit generalised scheme of preferences (GSP) that was set up to bridge the new scheme and the European Union's GSP+, which Britain used to adhere to until it withdrew from the bloc in 2020.
"Closer to home here in the Philippines, we're about to launch our new trading scheme which is going to replace the GSP+. Our new scheme is called DCTS and we're going to be launching (that) on the 7th of June," she said during the 2nd Embassy Night organized by media company the Philippine Business and News and Hotel Okura Manila.
The envoy described the DCTS as "incredibly ambitious" as it aims to extend tariff cuts to hundreds of more products exported from developing countries.
"It has added new lines that are trying to listen to the voices that we heard over consultation, in particular simplifying rules of origins," she said.
She said the British Embassy in Manila also made sure that Filipino businesses would be "clear about opportunities and processes" to access the DCTS.
Under this scheme, Manila will continue to benefit from duty-free exports to the UK on more than 80 percent of eligible products, helping it save up to 21 million pounds a year.
It will remove tariffs on over 150 additional products and simplify some seasonal tariffs.
The British Embassy said the DCTS would also make it easier for the Philippines to produce goods using components from other countries without losing duty-free status.
In 2022, bilateral trade between the UK and the Philippines reached 2.1 billion pounds.
"Our bilateral trade is higher than ever and that's incredibly exciting for us. We are not only back to pre-pandemic levels but we're surpassing pre-pandemic level," Beaufils said.
"We're ambitious, dynamic, and hungry for increased trade between our two countries and we expect that to be a lot and happening over the course of the year," she added.
UK Prime Minister's Trade Envoy to the ASEAN Economic Community Richard Graham who is also present at the event said the two nations have leaders who are "similar-minded" in terms of keenness to generate growth and jobs in their respective countries.
"The UK is here to work very closely with Philippine businesses," he said.
"I think you have a president who is very pro-business keen to see the private sector generate the growth that will generate the jobs and opportunities of the future. We have a very similar-minded Prime Minister, who is himself a very successful businessman and this sets a good environment for greater cooperation between us," he added.
Graham, who is also the trade envoy to the Philippines, Malaysia and Indonesia, is in Manila from April 24 to 27 on official visit.
Similar to the UK, German Ambassador Anke Reiffenstuel, Czechia Republic Ambassador Jana Šedivá, Israel Ambassador Ilan Fluss, and Belgium Ambassador Michel Parys during the event cited the potential of expanding trade and investment relations between their respective country and the Philippines. (PNA)