By Ruth Abbey Gita-Carlos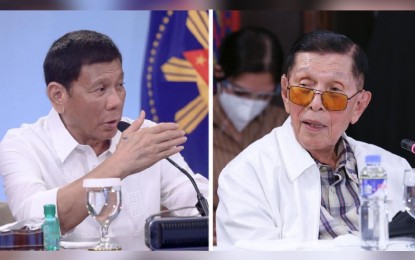 President Rodrigo Duterte (left) and former senator Juan Ponce Enrile (right) (Presidential photos)
MANILA (Philippines News Agency)– Former senator Juan Ponce Enrile's stance on the West Philippine Sea (WPS) dispute complements President Rodrigo Duterte's foreign policy to be "friends to all, and enemies to none," Chief Presidential Legal Counsel Salvador Panelo said on Friday. "The discourse of Senator Enrile on the issue validated the correctness of President Duterte's foreign policy," Panelo said in a press statement.
Duterte on Monday met with Enrile to seek his advice on the ongoing WPS disputes between the Philippines and China.
Enrile, during the meeting, advised Duterte to "befriend" China without surrendering the Philippines' rights over WPS.
Duterte heeded Enrile's recommendation and decided to ignore those criticizing his way of handling the Philippines' sea row with China.
Panelo said Enrile was "right" in telling Duterte to ignore critics.
"The President is indeed accountable only to the entire Filipino people, not to any specific person and —especially not to — his incorrigible critics with their pretended patriotism that rings hollow. Indeed, on his shoulders rests the responsibility to protect the interest of the nation and its people in the best way he can," he said.
Panelo also backed Enrile's suggestions since China will unlikely bow to any nation's demand to relinquish its interest over the contested waters.
He said there was nothing wrong with Duterte's stance on the WPS issue, adding that "only history will judge" the President when it comes to the "correctness or incorrectness, as well as to the wisdom or folly, of his foreign policy."
"And with the President's judicious method of asserting our sovereign rights over the West Philippine Sea, we will surely look back at it in the future as the only pragmatic and wise strategy in managing the issue," Panelo said.
Panelo also reiterated that Duterte would never allow any country to assault the Philippines' sovereign rights over WPS.
"And should any of those friends, assault our sovereignty and usurp our territory, then it goes without saying that friendship shall cease as we shall assert our independence and sovereignty with ferocity and without fear," he said.
Duterte is also considering holding a special meeting with his predecessors to discuss the WPS disputes.
The planned meeting between Duterte and former presidents is an "alternative" to convening the National Security Council, Presidential Spokesperson Harry Roque said in a virtual presser on Thursday.
Duterte has yet to set the date for his possible meeting his with predecessors. (PNA)