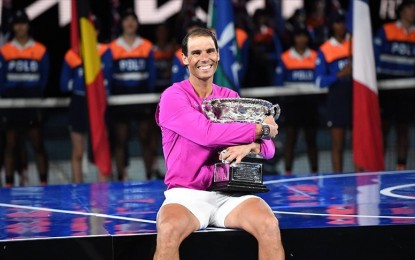 Spanish legend Rafael Nadal
ANKARA (Anadolu/PNA)– Tennis legends Roger Federer and Novak Djokovic on Sunday hailed Rafael Nadal on winning a record 21st Grand Slam title at the Australian Open.
The 35-year-old Spanish legend Nadal won his second Australian Open title with 2-6, 6-7 (5-7), 6-4, 6-4, and 7-5 sets against world No. 2 Daniil Medvedev, in almost five and a half hours of gameplay at Melbourne.
"To my friend and great rival Rafael Nadal. Heartfelt congratulations on becoming the first man to win 21 Grand Slam titles," said Federer on Instagram.
He said a few months ago, they were joking about their injuries together with Nadal, adding "never underestimate a great champion," praising the Spanish legend.
"I'm proud to share this era with you and honored to play a role in pushing you to achieve more. As you have done for me for the past 18 years," Federer, the former top tennis player, said.
Federer missed his chance to win the 21st title in the 2019 Wimbledon, losing to Djokovic.
Djokovic, who was not allowed to participate in the Australian Open after his visa cancellation was upheld by a three-member bench of the Federal Court, also praised Nadal.
"Congratulations to @RafaelNadal for 21st GS. Amazing achievement. Always impressive fighting spirit that prevailed another time. Enhorabuena," the world No. 1 Djokovic said on Twitter.
He also lauded 25-year-old Medvedev for putting "hell of a fight."
"I know you will have many more Grand Slam wins in your future," Djokovic said.
Before this game, Nadal, Novak Djokovic, and Roger Federer were all level on a men's record of 20 Grand Slam singles titles each.
Djokovic failed to bag his 21st grand slam title after losing to Medvedev in the 2021 US Open final. (Anadolu)