LETTERS FROM DAVAO
By Jun Ledesma
Comedic nightmare
WITH just two months to go before May 29 elections, the air smells of murk and campaign speeches rise to a crescendo heavy with identical promises. Debates are no longer informative and entertaining save for the incisive questions from Prof. Clarita Carlos.
Watching and listening to so many candidates upstaging each other for a single position require endurance and patience. We have heard them all and I am aghast why the Commission on Elections would still want one more debate of their own and warn candidates of sanctions if they dodge it. Professor Carlos has set the standard and she is a hard act to follow.
What's really puzzling with elections and politicians is that they all believe they can win. Survey outfits that include Social Weather Stations, Pulse Asia, Publicus Asia, Octa Research Group, and Laylo Research Strategies have come out with identical results with Bongbong Marcos leading with more than the total votes of his adversaries.
Other than what the survey results convey is the revelation of serious masochistic tendencies among the aspirants. I am amazed by not a few candidates wasting time, money, and energy still forcing themselves on the electorates when their scores in surveys hardly even breach 5%. A number of presidential aspirants for example cannot even achieve a 1% and have become irrelevant.
How can a Walden Bello win over Davao City Mayor and Vice Presidential aspirant Inday Sara Duterte by calling her "coward" simply because she would rather be on the campaign trail than stand before the TV klieg lights? Walden has not seen the face of terror and deals with it with the wit and courage that the Davao Mayor went through. Bello, who was once a member of the Communist Party of the Philippines, stayed too long in America at the height of terroristic activities of the New Peoples' Army and the separatist element in Davao and Mindanao for that matter. He was oblivious to what was happening and I excuse him for not being aware that from this environment a woman with true grit and intellect, an alpha in the family, was molded to be a strong and decisive leader.
With the campaign period for local candidates just in the offing, the din of electoral sound bites will mercifully awaken those who insist they will win and realize that what they had been through was just a bad comedic nightmare.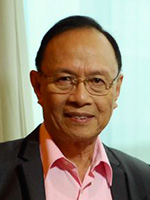 Mr. Jun Ledesma is a community journalist who writes from Davao City and comments from the perspective of a Mindanaoan.